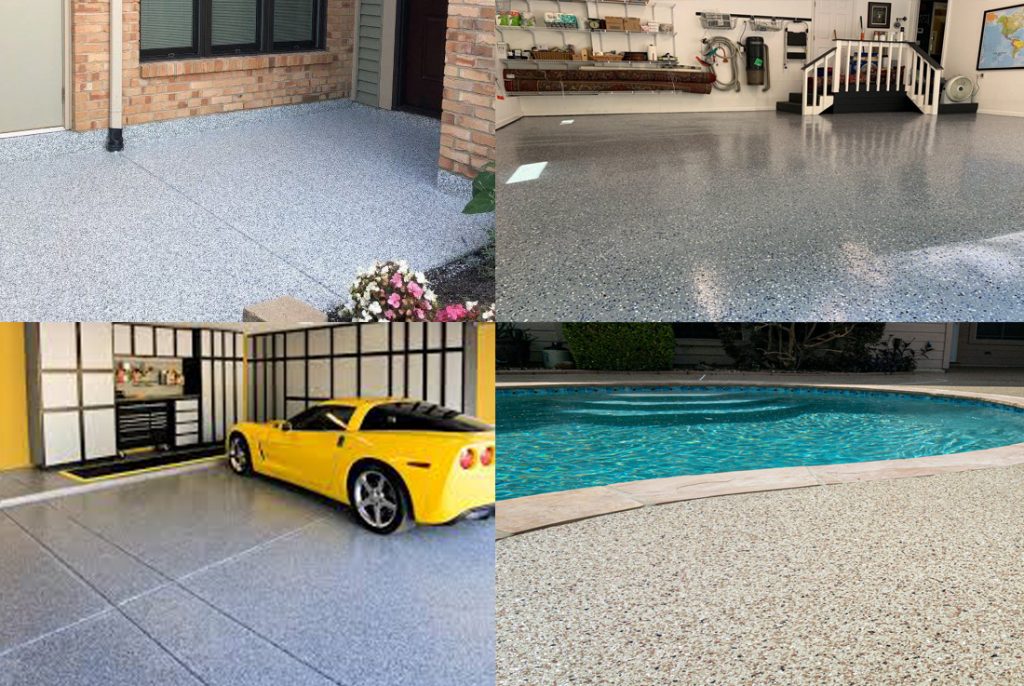 Floor Coating Systems for Residential Applications
Garage Floors

Pool Decks

Patios

Basements
Basements are an important part of your home and requires as much maintenance as the other rooms in your house. When your basement's concrete floors start looking rusted and aged, it can dramatically impact the functionality and look of your home. You want to be able to use your basement as an extension of your living space, so maintaining the look and feel of your floors is crucial to this. If your basement has become an eyesore for you and is the one project you have been putting off due to the anticipated costs and project timeline, we may have the answers to your problems.
Our flooring coating solutions include using what is called polyaspartic material to coat your concrete floors and this is the ideal concrete covering for you if you are looking for an option that is moisture resistant, durable, visually appealing and requires short installation times. There are so many benefits of using this newer technology for your home's concrete floors, that it is no wonder that this concrete floor coating solutions has become the preferred method in the industry over the last few years.
The reason behind polyaspartic technology's rapid popularization, as discussed above, is largely due to the hybrid benefits of this material. This is the preferred concrete covering option if the room in which you are coating the floors is considered a high-moisture environment. Polyaspartic coatings bond well to cement and prevent the cement from cracking due to moisture damage. This can add years to the life of your concrete slab and as a result, lead to massive cost savings for you.
Typically, concrete floor coating companies offered primarily epoxy flooring for home owners. But polyaspartic coatings provide value and durability that far exceed epoxy. But perhaps the main selling point is that the installation time for polyaspartic flooring is a matter of hours vs. days. We can typically turnaround a basement flooring job with polyaspartic coating within a day so that you can get back to using your basement in no time. Not only is this material ideal for basements, it's also ideal for any outdoor space around your home that is prone to extreme temperature fluctuations and excessive moisture such as patios, pool decks and porches.
Concrete Floor Coatings That Will Upgrade The Look Of Your Home
So the next time you need a concrete floor coating job, look no further than to 1 Day Floor Coating and ask us about our polyaspartic flooring options. We offer concrete repair and restoration for all your residential flooring needs. Whether it's a crack repair, concrete grinding or floor preparation that needs to be done in anticipation for your next coating project, let us take the burden out of the job for you. Don't leave the polishing, coating and prep work to amateurs and risk having to redo your entire coating job. We perform all steps of the concrete covering job from start to finish so that you don't need to hire multiple contractors to do one project and risk compromised timelines. 
What makes polyaspartic floor coatings ideal for your outdoor needs is that this material is UV stable. What this means it that you no longer need to worry about your outdoor floors turning yellow from sun exposure and won't develop unsightly spots from increased moisture exposure. Because the temperature range resistance is so high on polyaspartic coatings, it makes it the ideal flooring material for pool decks, patios and porches. The durability of this material makes it a great option for nearly any concrete surface as it is flexible enough to mend small cracks and once cured, can withstand the hottest or coldest of temperatures. ​

Our concrete floor coatings all come with lifetime warranty. So whether it is your basement flooring that needs to be re-done, pool deck, patio or porch, call us for a no obligation quote so you can be one step closer to your dream home. We have been able to grow our business through the referrals of our existing customer base because through our craftsmanship, customer service and unbeatable value, we have made a name for ourselves in Buffalo as the concrete floor coating company to trust.